BIOGRAPHY
Update Required
To play the media you will need to either update your browser to a recent version or update your
Flash plugin
.
When I was a very young girl, I used to hear music in my head when I was falling asleep. I soon learned that if I tried to listen to it, it would go away, but that if I stopped trying, it would play softly in my ear as I drifted off to sleep.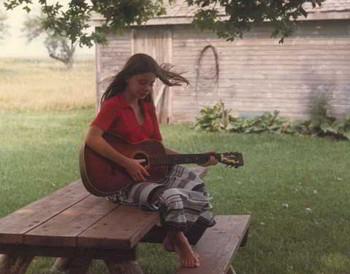 I have always loved music and dancing. I began studying dance at age nine, and guitar at age twelve. Here's me as a kid at a friend's family farm near where I grew up. An only child, I used to spend hours alone on this farm running around barefoot, playing with imaginary friends, and making up songs. The guitar I'm holding in this picture was borrowed from somewhere. It had 3 strings which were totally out of tune and I had no idea how to play it so I was just making stuff up. A few months after this picture was taken I got my first guitar and started taking lessons.
The Victoria Arts Collaborative
At age fourteen, I had a transcendental experience while dancing and concluded that it was my destiny to become a dancer. After highschool, I enrolled in a professional dance training program in Victoria, BC, under the direction of Constantine Darling, a former soloist with Les Ballets-jazz de Montreal. I studied with him for three of the happiest years of my life and was a promising student, earning praise from such visiting artists as Christopher House and Serge Bennathan (prominent choreographers in Canada). I earned two awards for my original choreography in local music festivals and was occasionally entrusted to substitute teach the advanced class in Constantine's absence. For more photos from my dance career, see my Dance Gallery.
However, an ankle injury at age 22 brought an abrupt halt to my dance studies. Devastated, I spent several years trying to find a way to work with my damaged ankle so I could continue to dance. After four years of research, I found that some by using some orthopedic techniques, I could still enjoy my passion for dance at home or recreationally, but that I would still not be up to the physical demands of a professional dance performing career.
Seattle's Pike Place Market
I turned to music for my creative outlet. A series of adventures led me to Seattle's Pike Place market, where, at age 26, I began earning my living playing guitar and singing on a street corner. For the summer of 1996, I lived in the Green Tortoise Hostel in a room with three other girls for $200/month in rent. I earned about $30/day playing at the market. I also made my first pilgrimmage to the Oregon Country Fair that summer. I fell in love with the Fair and I still go every year.
(Thanks to the dedicated hard work of Seattle's Pike Market Buskers' Guild, busking is widely recognized as an honorable profession in Seattle, and the streets of this city have been graced with performances by world class artists such as Jim Page, Artis the Spoonman, Niceol Blue, Reggie Miles, Johnny Hahn and the late great Jim Hinde to mention just a few.)
On Tour
My first North American tour began unintentionally. My mom offered to give me her old car but I had to drive it back from my hometown in London, Ontario. I decided to try to pick up a few gigs along the way, so I went down to the local public library and photocopied the yellow pages from every town in every state I would drive through, then called all the taverns and restaurants. I booked nine shows in a week and a half, and thus, my first U.S. Tour was born! It was fun and I arrived home with more money than I started with, so I decided to do it again.
For a year and a half I toured full time, and then I went back to school at Shoreline Community College and completed a music degree. I took up teaching and continued to tour on weekends and in the summer.
Recordings
In 2005 I recorded A Girl With A Guitar, a solo CD. It's not bad but nowhere near as good as the album I made in 2009 with my band, Wild Wind. I'm really proud of this album and I recommend it wholeheartedly. It's received airplay at radio stations around the country and even registered on a couple of folk music charts. It contains some truly fine performances and some amazing local guest artists, and was co-produced in Seattle by yours truly & the fabulous Conrad Uno.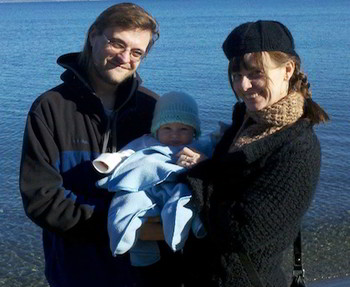 Family Life
In 2010, I did a two month tour of the USA including Washington, Oregon, California, Texas, Tennessee, Colorado, Montana and points between. My former partner, Jeremy, came with me as my roadie & sound man. During that summer my lovely daughter Ella was conceived. We were all together as a family for two years, during which time we had some fun touring California and Oregon in the VW Bus, but have now separated.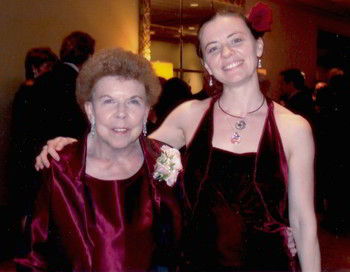 In 2013, my mother passed away at age 80 in Vancouver, BC. I am grateful that she had time to get to know her granddaughter before she passed. This is a picture of us together a few years earlier, at an award ceremony where she received the Kistler Prize for her research in neuroscience.
Kerrville
In 2014, I was selected as a finalist in the 2014 Kerrville New Folk Songwriting Competition. My dear friend and musical partner Rose Darke joined me and my little girl for this exciting adventure. It was an honor and a great experience. Since returning from Kerrville, I've been at home with my daughter a lot, working on some new songs, and looking forward to the Far West Folk Alliance Conference this October.
The Name "Thistle"
People often ask, "Why did you choose the name 'Thistle'?" Well, when I was a young girl my mother would sometimes task me with removing thistles from the garden behind our house. I worked hard to pull them out, and found that the only way was to get a sharp tool and cut their roots. Only weeks later, I would find new plants growing in the same spot.
The thistles infuriated me at first, but I grew to respect their tenacity. I found the thistle to be an inspiring symbol of determination, and in particular, the will to grow deep roots and thrive in spite of adversity. These particular plants, I learned, are the species cirsium arvense, also know as the Canadian Thistle. They came to North America from Europe with early settlers, so like me, they are transplanted.
To this day, many of the songs I write still originate from music I hear in my dreams.